200ton Heating/Cooling Molding Machine (3-stage type)
Custom press molding machinesHot press molding machinesPowder press molding machinesResin press molding machines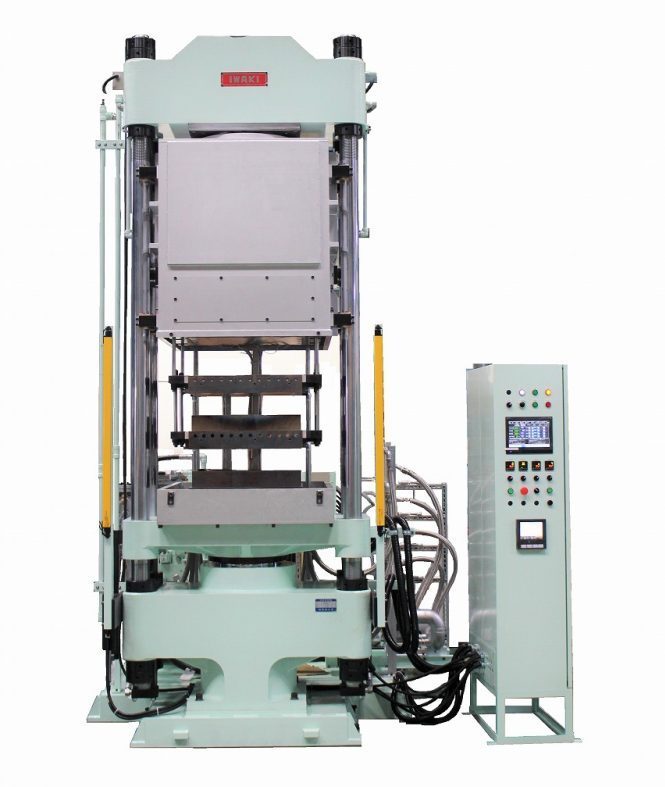 It is a hydraulic molding press machine capable of heating and cooling molding. It can be heated up to 360 ° C in 30 minutes, and can be cooled to 50 ° C with air, water, etc. while maintaining pressure. Since it is a 3-stage type, it is possible to significantly reduce the production time by producing 3 products in one cycle.
【Features】
1.Surrounding hot platen with a chamber prevents heat radiation from outside air and it is also possible to vacuum and fill up nitrogen.
2.Since the communication temperature can be controlled on the touch panel, it is possible to link the temperature setting and press operation of all four hot plates.
3.Our original hydraulic system enables a wide range of pressure control from 5 to 200 tons.
4.Our unique control method using an inverter unit enables constant pressure control for a long time by monitoring and controlling the pressure instability due to material compression and expansion during molding.
5.Since it supports heating and cooling, it is possible to mold all products such as thermosetting and thermoplastic.
Products(applications)
Thermosetting, thermoplastic resin molding
Output
200ton

Stroke
410㎜
Open height
600㎜(200㎜×3)
Platen size
600㎜x600㎜
Mold size
500㎜x500㎜
Cylinder
Main cylinder φ355㎜
Kicker cylinder Φ100㎜x2
Maximum pressure
21MPa
Operation speed
1~50㎜/s
Hot platen temperature
360℃
Cooling method
Air, cooling water
Hydraulic motor power
5KW
Heater capacity
144KW(36KWx4)
Operation
Manual/Automatic
Machine size(widthxheightxdepth)
Approximately 2400㎜x3800㎜x2300㎜