50ton Multi-stage Molding Machine
Custom press molding machinesHot press molding machines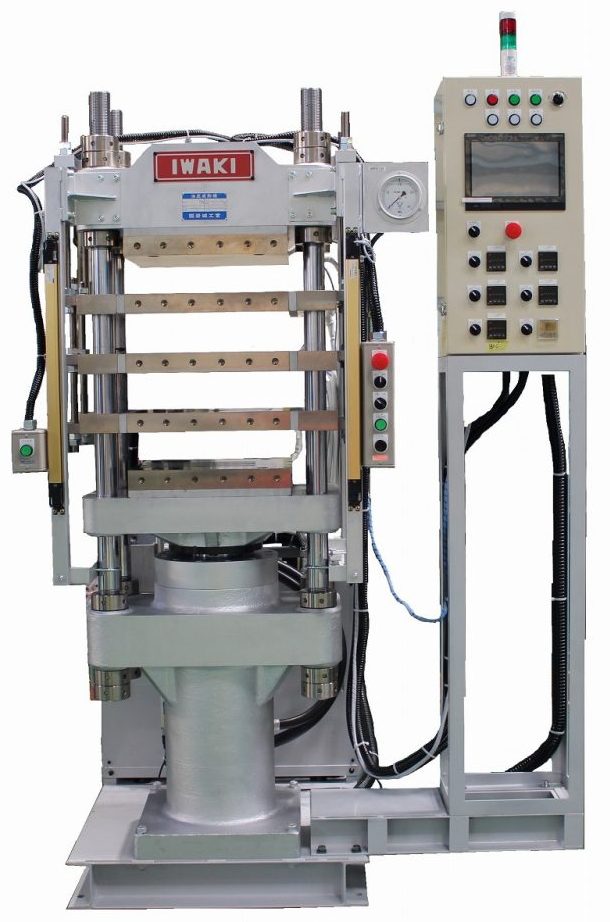 This machine was manufactured to mold a number of products in one cycle. Plating main parts withelectroless nickel prevents the machine from rusting and minimize the contamination in products.
【Features】
1.Using inverter made it possible to reach the setting pressure in a specified time, which is impossible with regular hydraulic unit.
2.Our original controlling method using an inverter unit enables constant control for a long time by monitoring and controlling the pressure rise and fall due to material compression and expansion during molding.
| | |
| --- | --- |
| Products(applications) | Rubber |
| Output | 50ton |
| Stroke | 400㎜ |
| Open height | 400㎜(100㎜x4) |
| Platen size | 410㎜x400㎜ |
| Mold size | 350㎜x350㎜ |
| Cylinder | φ140㎜ |
| Maximum pressure | 21MPa |
| Operation speed | 0.3-30㎜/s |
| Hot platen temperature | 200℃ |
| Hydraulic motor power | 5KW |
| Heater capacity | 19KW |
| Operation | Manual/Autoatic |
| Machine size(widthxheightxdepth) | Approximately 1500㎜x2200㎜x1420㎜ |