Improve productivity
and reduce running costs.
"Is this kind of press possible?"
We can answer this question
with solid solutions.
We can offer made-to-order presses and multiple
other proposals for you to choose from.
Iwaki Industry has received orders for
customized solutions from all over Japan.
Example solutions 1
Customer: automobile part manufacturer – COMPANY A
Description of inquiry
We want to make five products at a time.
Part precision is important. Hot platen parallel precision must be within 0.01mm.
Temperature for the hot platen must be within 250±3℃.
Solution!
We answered with a multi-layer press that we have experience with making before. Using a custom-designed five-layered press it is possible to make 5 products at a time, but generic machines will be unable to achieve the desired accuracy. Using custom machinery we were able to exceed to the customer requirements of 0.01mm with precision of 0.006mm.
When product accuracy is required, we used 3D-CAD to analyze stresses and our more than 50 years of experience to adjust until we meet the customer requirements.
In the same way we easily achieved temperature accuracy for the hot platen.
After this experience we received orders for an additional five units.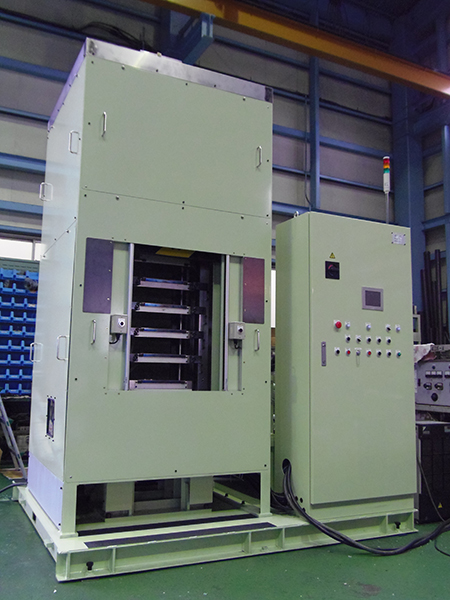 Example solutions 2
Customer: special resins manufacturer – COMPANY B
Description of inquiry
We want to generate 300 tons of submerged pressure.
Since the compression is high, we want to have constant pressing instead of containment.
We want to vastly reduce power consumption.
Solution!
All components in contact with water were coated to protect from rusting. Based on our past experience, comprehensive measures were taken to prevent leaks.
We were able to meet the requirements for constant pressure and reduce power consumption by 80% compared to normal motors by incorporating a hydraulic servo unit and combining it with our own product sequence control data.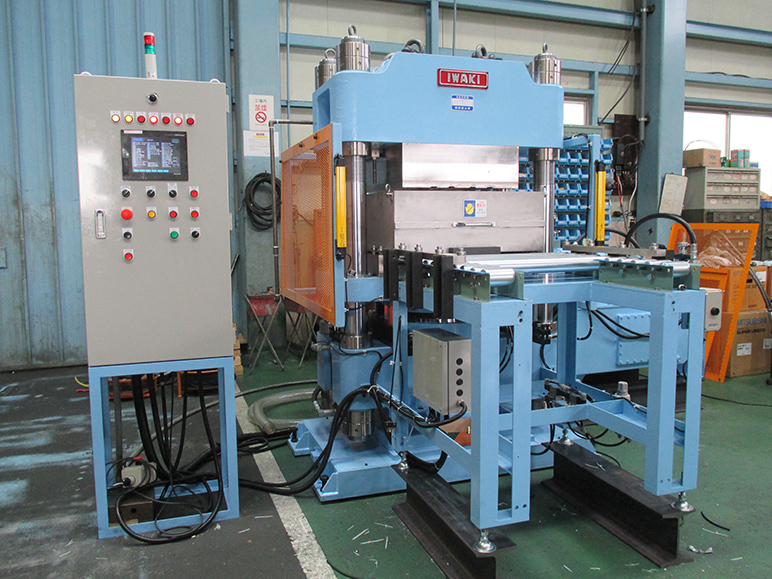 Example solutions 3
Customer: major international industry – COMPANY C
Description of inquiry
We want to keep costs to a minimum for international deployment.
We want to maintain the machine ourselves, so all electrical components must meet specific safety categorization. We want sequence data comments to be available in Japanese. There are other manufacturers internationally, but we cannot find a company able to support us and we have problems setting up meetings.
Solution!
We have had a factory in Taiwan for more than 15 years and are able to meet all requirements with our Japanese engineers performing mechanical and electrical design and giving instruction to our Taiwan factory.
Since the electrical and mechanical design, preparation of drawings and instructions are all performed in-house, we can produce products to the same level of quality as in Japan.
We have two engineers in our Japanese head office able to communication in Chinese (one Taiwanese and one Japanese) in our International Production Technology Section, so we can communicate with the Taiwan factory in real-time.
We have 15 years of experience maintaining machines made in Taiwan that are delivered to Japan with our Japanese staff.
* All products made in our Taiwan factory have Japanese engineers on-site to confirm that customer requirements are met and to verify the operation of the machine before shipment.