Large Rubber Gasket Molding
Custom press molding machinesHot press molding machinesMade-in-Taiwan press molding machines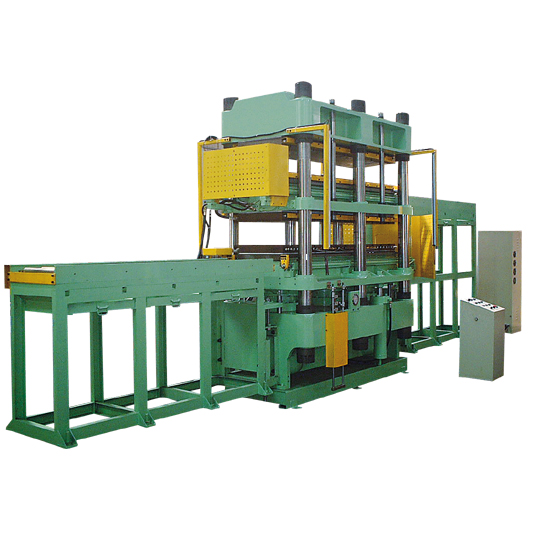 This hydraulic press molding machine was made to order for molding large rubber products.
【Features】
1.The hot platen dimensions are 2300x800mm with two levels, so it enables production of two products in a single cycle.
2.The heat of the mold does not cool down because of the mold slides to the roller along with the heating plate after the molding is completed.
3.Since the product is long, the accuracy of the product is kept high by using three 200ton cylinders.
| | |
| --- | --- |
| Products(applications) | Large rubber gasket molding |
| Output | IPM-WL-600(600ton) |
| Stroke | 500㎜ |
| Open height | 250㎜ x 2 |
| Platen size | 2300㎜ × 600㎜ |
| Mold size | 2100㎜ × 550㎜ |
| Mold thickness | 0 〜 200㎜ |
| Cylinder | φ355㎜×3 |
| Maximum pressure | 21MPa |
| Operation speed | 2.49-33.24㎜/s |
| Hot platen temperature | 200℃ |
| Mold splitter | 2x 2 stages(in the press) |
| Sliding table | 〇 (integrated with lower hot platen) |
| Hydraulic motor power | 11KW |
| Heater capacity | 28KW × 4 |
| Operation | Manual/Automatic |
| Machine size(widthxheightxdepth) | Approximately 7615㎜x3220㎜1230㎜ |