Rubber Molding Test Machine
Custom press molding machinesHot press molding machines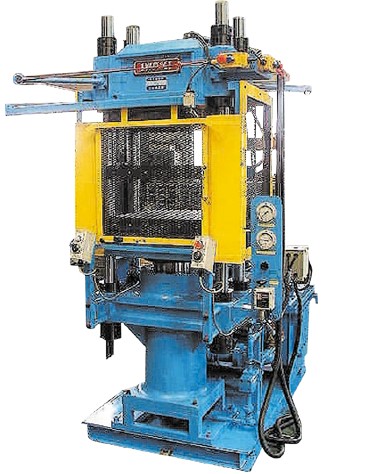 This hydraulic press molding machine is manufactured in consideration of customer's safety requirements.
【Featiures】
1.It meets all customer safety standards including safety covers, area sensors and rope switches, and is manufactured with high requirements for precision in machining and temperature.
*In order to clear the advanced safety specifications of recent year,  iwaki Industry can meet and exceed afety category 4.
| | |
| --- | --- |
| Products(applications) | Rubber molding test machine |
| Output | IPM-SS-100(100ton) |
| Stroke | 400㎜ |
| Open height | 200±50㎜ x2 |
| Platen size | 510 ㎜× 510㎜ |
| Mold size | 500㎜ × 500㎜ |
| Mold thickness | 200 ㎜〜 450㎜ |
| Cylinder | φ250㎜ |
| Maximum pressure | 21.0MPa |
| Operation speed | 6-80㎜/s |
| Hot platen temperature | 200℃ |
| Mold splitter | 2(in the press) |
| Hydraulic motor power | 3.7KW |
| Heater capacity | 5.8KW × 3 |
| Operation | Manual/Automatic |
| Machine size(widthxheightxdepth) | Approximately 1655㎜x2380㎜ x 1650㎜ |