Affixing Rubber Sheet, Films, etc.
Custom press molding machinesMade-in-Taiwan press molding machinesPowder press molding machines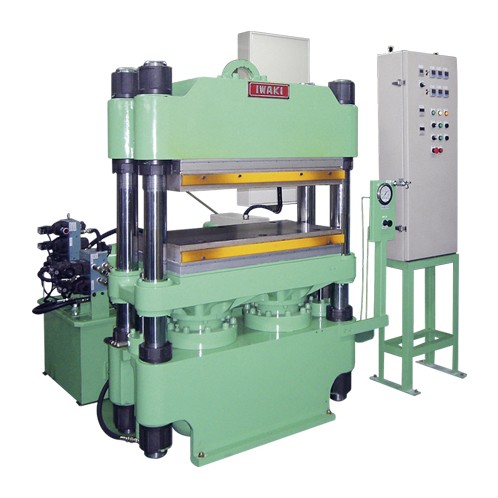 This hydraulic press molding machine was made to order to support horizontally long products instead of square-shaped products.
【Features】
1.Since the hot platen dimensions are 1000 x 500 mm, two hydraulic cylinders are used to improve product accuracy.
2.Suitable for rubber molding, bonding, film bonding, etc.
| | |
| --- | --- |
| Products(applications) | Affixing rubber sheet, films, etc. |
| Output | ILM-200(200ton) |
| Stroke | 300㎜ |
| Open height | 300㎜ |
| Platen size | 1000 ㎜× 500㎜ |
| Mold size | 900 ㎜× 400㎜ |
| Mold thickness | 0 〜 250㎜ |
| Cylinder | φ250㎜×2 |
| Maximum pressure | 21MPa |
| Operation speed | 5-80㎜/s |
| Hot platen temperature | 200℃ |
| Mold splitter | 2(in the press) |
| Hydraulic motor power | 11KW |
| Heater capacity | 36KW |
| Operation | Manual/Automatic |
| Machine size(widthxheightxdepth) | Approximately 1360㎜x1850㎜x500㎜ |