Conveyor Roller Drawing
Custom press molding machinesMetal press molding machineUsed press molding machines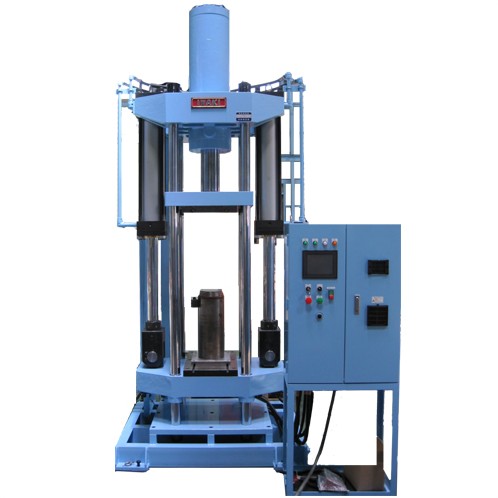 This hydraulic press molding machine is manufactured to perform caulking for conveyor roller parts.
【Features】
1.The design enables adjustment of the open height with a cylinder in order to support  wide varieties of conveyor rollers.
2.In order to perform delicate pressure control, the proportional valve, servo and inverter are selected and controlled to meet customer requirements.
| | |
| --- | --- |
| Products(applications) | Conveyor Roller Drawing |
| Output | IAM-CO-50(50ton) |
| Stroke | 750㎜ |
| Open height | 1600㎜ |
| Platen size | 600 ㎜× 450㎜ |
| Mold size | 600 ㎜× 450㎜ |
| Mold thickness | Customer's specification |
| Cylinder | φ180㎜ |
| Maximum pressure | 21MPa |
| Operation speed | 5-60㎜/s |
| Mold splitter | 2(in the press) |
| Hydraulic motor power | 7.5KW |
| Operation | Manual/Automatic |
| Machine size(widthxheightxdepth) | Approximately 2088㎜x3450㎜1200㎜ |