Vacuum Rubber Molding (Cold Pot Specifications)
Custom press molding machinesHot press molding machinesVacuum press molding machines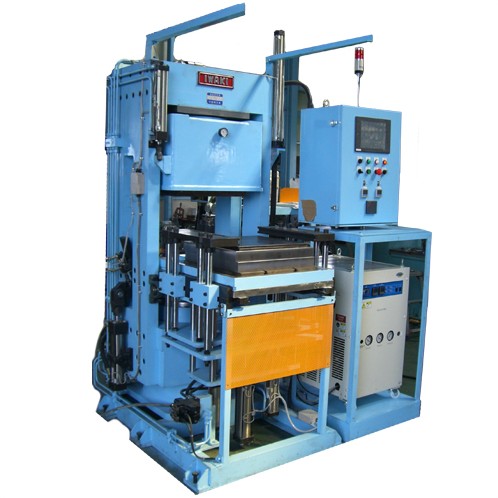 This vacuum press molding machine enables continuous molding by setting the temperature of the injection nozzle between 60℃ to 90℃ in injection rubber molding.
【Features】
1.This equipment enables major reductions in material losses when using expensive special materials.
2.It is possible to fill the material for 5 to 10 moldings at a time, which increases the production efficiency.
| | |
| --- | --- |
| Products(applications) | Rubber Molding (Cold Pot Specifications) |
| Output | IVM-C-250(250ton) |
| Stroke | 250㎜ |
| Open height | 400㎜ |
| Platen size | 550 ㎜× 510㎜ |
| Mold size | 500㎜ × 500㎜ |
| Mold thickness | 150 〜 250㎜ |
| Cylinder | φ400㎜ |
| Maximum pressure | 21MPa |
| Operation speed | Maximum speed 100㎜/s |
| Hot platen temperature | 200℃ |
| Mold splitter | 4 |
| Sliding table | 〇 |
| Hydraulic motor power | 7.5KW |
| Vacuum motor power | 3.1KW |
| Heater capacity | 5.4KW+6.4KW |
| Operation | Manual/Automatic |
| Machine size(widthxheightxdepth) | Approximately 1750㎜x2920㎜x2000㎜ |