Rubber Molding Machine
Custom press molding machinesPowder press molding machinesVacuum press molding machines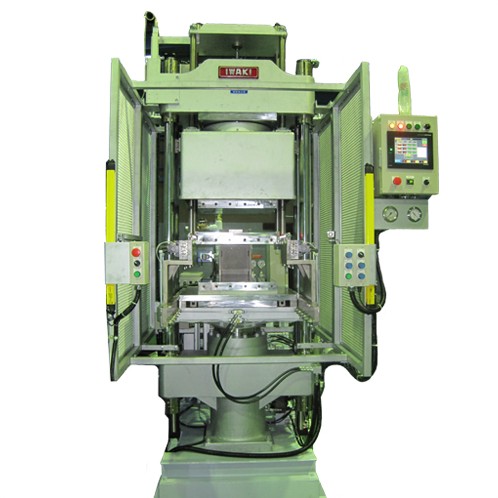 The design of vacuum press molding machines is generally extremely complex and two-stage molding was considered impossible.
In order to meet the increased productivity requirements of our customer, we built this to their order.
【Features】
1.As a custom product, the hot platen has been treated with rust-proof coating enabling manufacture in a clean room.
| | |
| --- | --- |
| Products(applications) | Rubber molding |
| Output | IVM-W-150(150ton) |
| Stroke | 400㎜ |
| Open height | 200㎜+200㎜ |
| Platen size | 500㎜ × 500㎜ |
| Mold size | 450 ㎜× 450㎜ |
| Mold thickness | 0 〜 150㎜x2 |
| Cylinder | φ300㎜ |
| Maximum pressure | 21Mpa |
| Operation speed | 3-50㎜/s |
| Hot platen temperature | 200℃ |
| Mold splitter | 2x2 (in the press) |
| Sliding table | 〇 |
| Hydraulic motor power | 5.5KW |
| Vacuum motor power | 5.5KW |
| Heater capacity | 5.4KW×3 16.2KW |
| Operation | Manual/Automatic |
| Machine size(widthxheightxdepth) | Approximately 1660㎜x3060㎜x2715㎜ |