300ton Heating/Cooling Press Molding Machine (4-stage type)
Custom press molding machinesHot press molding machines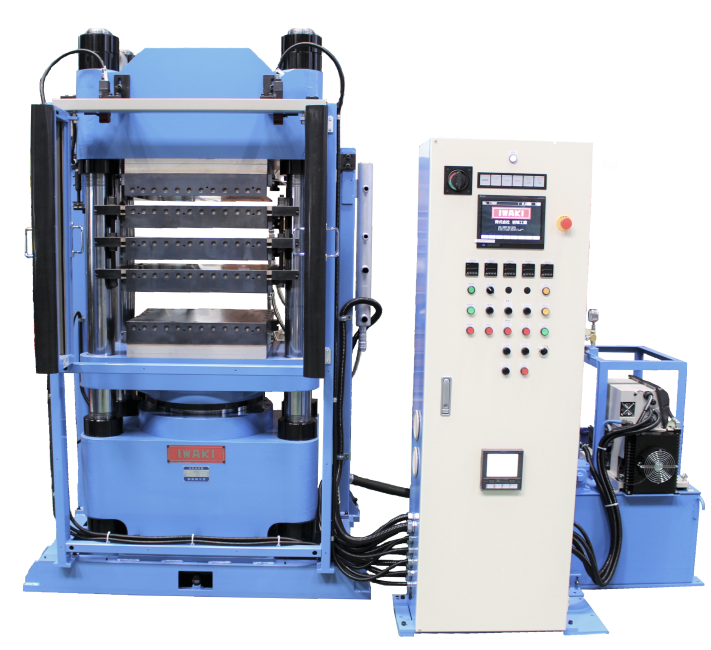 300ton heating/cooling 4-stage press molding machine. The hot platen can be heated to 350℃ with steam and heater, and it can be cooled to 50℃ with steam and cooling water with the pressure maintained after molding is completed.
1.Since the communication temperature can be controlled on the touch panel, it is possible to link the temperature setting and press operation of all five hot plates.
2.Cooling can be started from 350 ℃ while maintaining the press pressure.
3.Fine control is possible by linking temperature control and press pressure control.
| | |
| --- | --- |
| Products(applications) | Resin |
| Output | 300ton |
| Stroke | 250㎜ |
| Open height | 250㎜ (40+40+40+130㎜) |
| Platen size | 600㎜x600㎜ |
| Mold size | 600㎜x600㎜ |
| Cylinder | φ450㎜ |
| Maximum pressure | 19MPa |
| Operation speed | 6㎜/s |
| Hot platen temperature | 350℃ |
| Cooling method | Steam, cooling water |
| Inverter motor power | 5KW |
| Heater capacity | 60KW(12KW×5) |
| Operation | Manual/Automatic |
| Machine size(widthxheightxdepth) | Approximately 2280㎜x2400㎜x1200㎜ |