Vacuum press molding machine(Affixing films )
Hot press molding machinesUsed press molding machinesVacuum press molding machines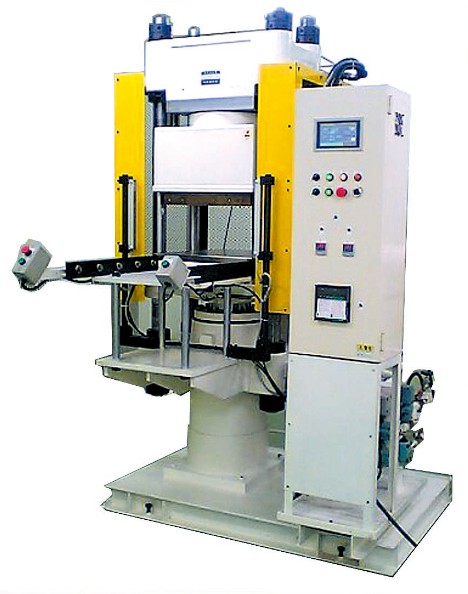 This product is a second-hand product converted to a vacuum press molding machine.
【Features】
1.Since it is a pillar type, the open height can be changed according to the thickness of the mold.
2.Ideal for manufacturing products with high defect rate due to the air mixing in the product such as film adhesion and rubber molding.
| | |
| --- | --- |
| Products(applications) | Affixing films (vacuum) |
| Output | IVPM-100(100ton) |
| Stroke | 300㎜ |
| Open height | 300㎜ |
| Platen size | 510㎜ × 510㎜ |
| Mold size | 500㎜ × 500㎜ |
| Mold thickness | 0 〜 250㎜ |
| Cylinder | φ250㎜ |
| Maximum pressure | 21MPa |
| Operation speed | 5-60㎜/s |
| Hot platen temperature | 200℃ |
| Mold splitter | 2(in the press) |
| Sliding table | 〇(By hydraulic cylinder) |
| Hydraulic motor power | 3.7KW |
| Vacuum motor power | 3.1KW |
| Heater capacity | 5.4KW × 2 10KW |
| Operation | Manual/Automatic |
| Machine size(widthxheightxdepth) | Approximately 1540㎜x2500㎜x1850㎜ |