Sample Testing
Custom press molding machinesHot press molding machinesPowder press molding machinesResin press molding machines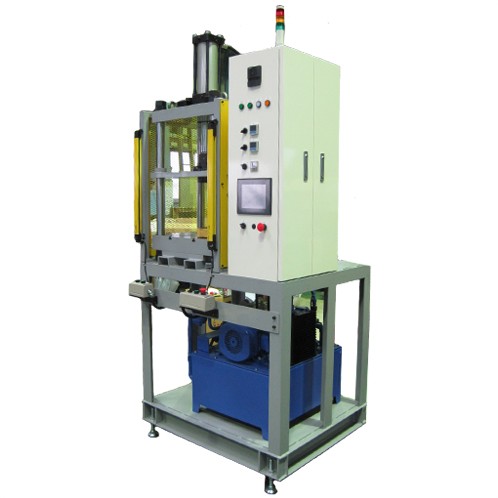 This hydraulic press molding machine performs sample testing of various products.
【Features】
1.In order to perform a test under all conditions, select a device that meets the customer's request from proportional valves, servos, and inverters pumps.
2.We offer data collection options depending on your budget including data loggers and logging functions (PC, USB, SD card memory), to create the data you need in order to record the test conditions periodically.
| | |
| --- | --- |
| Products(applications) | Sample testing |
| Output | IAM-S-15(15ton) |
| Stroke | 200㎜ |
| Open height | 375㎜ |
| Platen size | 400 ㎜× 400㎜ |
| Mold size | 350㎜ × 350㎜ |
| Mold thickness | 175 〜 350㎜ |
| Cylinder | φ100㎜ |
| Maximum pressure | 21MPa |
| Operation speed | 8-60㎜/s |
| Hot platen temperature | 200℃ |
| Hydraulic motor power | 3.7KW |
| Heater capacity | 2.5KWx2 5KW |
| Operation | Manual/Automatic |
| Machine size(widthxheightxdepth) | Approximately 1100㎜x2300㎜x900㎜ |