700ton Powdered Ceramics, Teflon (PTFE) Molding
Custom press molding machinesMetal press molding machinePowder press molding machines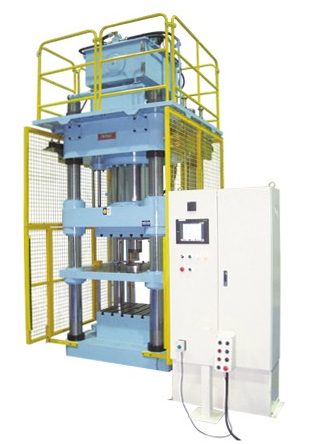 This hydraulic press molding machine was made to order to support large-scale powder press molding.
【Features】
1.In powder molding, generally the powder is compressed evenly by closing at both sides.This machine uses a large 700 ton press and incorporates a intermediate float design due to the size of the machine and high costs.
2.A wide variety of products can be supported by controlling speed and pressure with the proportional valve.
| | |
| --- | --- |
| Products(applications) | Powdered ceramics, Teflon (PTFE) molding |
| Output | IAM-F-700(700ton) |
| Stroke | 500㎜ |
| Open height | 1100㎜ |
| Platen size | 800 ㎜× 800㎜ |
| Mold size | 700㎜ × 700㎜ |
| Mold thickness | 600 〜 1000㎜ |
| Cylinder | φ660㎜ |
| Maximum pressure | 21MPa |
| Operation speed | 10-120㎜/s |
| Mold splitter | 3(in the press) |
| Hydraulic motor power | 22KW+7.5KW(Movement) 110KW(Constant pressure) |
| Operation | Manual/Automatic |
| Machine size(widthxheightxdepth) | Approximately 3600㎜x5500㎜x2700㎜ |