Custom Resins (Upper Heating, Lower Cooling)
Custom press molding machinesHot press molding machinesResin press molding machines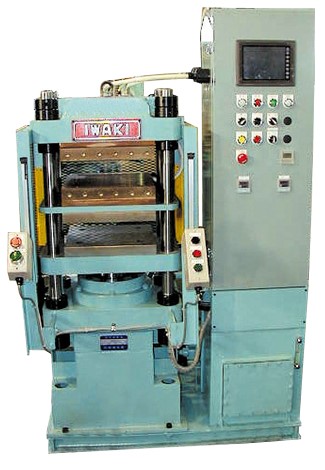 This hydraulic press molding machine enables testing and manufacturing of both thermosetting resins
and thermoplastic resins.
【Features】
1.The equipment consists of two levels: the top level uses a hot platen with temperature up to 300℃,
and the lower level uses a cold platen with liquid cooling. This equipment is suited to evaluation of
a wide variety of materials.
2.In the case of a test machine, we offer data collection option according to your budget including
data loggers and logging functions (PC, USB, SD card memory), to create the data you need.
| | |
| --- | --- |
| Products(applications) | Custom resins (upper heating, lower cooling) |
| Output | IPM-W-37(37ton) |
| Stroke | 250㎜ |
| Open height | 100㎜x2 |
| Platen size | 300㎜ × 300㎜ |
| Mold size | 300 ㎜× 300㎜ |
| Mold thickness | 0 〜 90㎜ |
| Cylinder | φ150㎜ |
| Maximum pressure | 16MPa |
| Operation speed | 5-60㎜/s |
| Hot platen temperature | 200℃ |
| Mold splitter | 2(in the press) |
| Hydraulic motor power | 3.7KW |
| Heater capacity | 4 KW× 2 |
| Operation | Manual/Automatic |
| Machine size(widthxheightxdepth) | Approximately 1100㎜x1600㎜x1260㎜ |