Part Caulking (Caulking Including Riveting)
Custom press molding machinesMetal press molding machine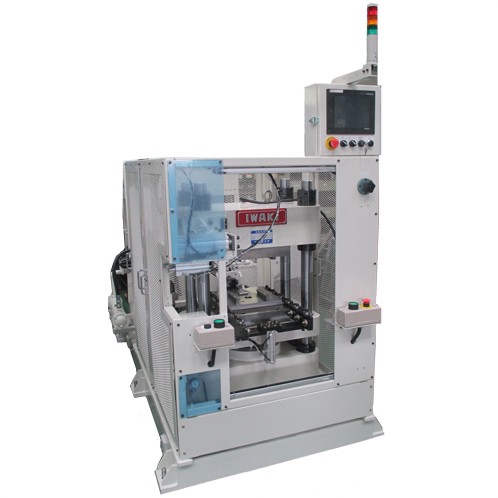 This hydraulic press molding machine is manufactured for part caulking.
【Features】
1.Part provision and unloading can also be performed automatically.
We can design and manufacture associated equipment in addition to hydraulic press machines.In addition to in-house design, we also cooperate with outsourced equipment manufacturers specializing in automatic machines to meet customer requirements.
| | |
| --- | --- |
| Products(applications) | Part Caulking (Caulking Including Riveting) |
| Output | IPM-K-70(70ton) |
| Stroke | 200㎜ |
| Open height | 250㎜ |
| Platen size | 400㎜ × 300㎜ |
| Mold size | 350㎜ × 250㎜ |
| Mold thickness | 150 〜 200㎜ |
| Cylinder | φ210㎜ |
| Maximum pressure | 21MPa |
| Operation speed | 1.33-100㎜/s |
| Mold splitter | 2(in the press) |
| Sliding table | 〇 |
| Hydraulic motor power | 5.5KW |
| Operation | Manual/Automatic |
| Machine size(widthxheightxdepth) | Approximately 1150㎜x 2000㎜x2230㎜ |